Training Soccer Balls
Lowest price of training soccer ball on Earth!
Artificial Leather PVC in multi colored printing laminated with 2 Cotton,
1 Polyester fitted with Latex Bladder Butyl Valve ...
Construction: hand stitched soccer balls for training.
Outer Cover: High quality soft composite leather
Inner Lining: 4 Ply non-stretchable lining to insure roundness of the ball
Bladder: Butyl bladder
Designed Practice Soccer Balls for training and high level game play
Size: 5,4,3
We are leading manufacturer of all qualities of Footballs and Soccer balls. Garments and well in a position to meet any of your requirements regarding quality, quantity and delivery with our best quotation.
Training soccer balls made of Kid grain korean P.U. synthetic leather.

100% Hand stitched.
One Year guarantee.
Soccer balls Laminated 100% polyester & cotton with latex.
32 panels held by 720 stitches.
official size no.5, 68.5- 69.5cm, circumference while. (Ball Pressure 0.8 Bar)
Official Weight, 420-445 Grams (Ball Pressure 0.8 Bar)
Rebound, 120-150cm at 20oC Temperature.
Soccer balls Available in any color or graphics.
Recommended soccer ball for all surfaces & climate.
Recommended ball for club matches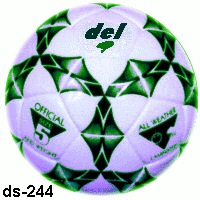 Introducing a new training soccer ball for competitive players.
A great ball
for all around training or practice training ball for camps. Made of rubber sheeting, 32 panels hand stitched with nylon cord to make it 100% waterproof. An ideal ball for rainy areas. Binded with 2 Polyester / 2 Cotton inner layers and non leak butyl bladder guaranteed for two years. Available in size: 4 and 5 we are manufacturer of all kind of Balls such as: Soccer ball and Baseballs also Caps to wrist bands or Thai bands. Shin pads etc.
These above items will met to you with your printed / Embroidered Badges and Monogram for promotional purpose. We are a well known manufacturer and Exporter of Sports balls particularly Soccer balls training for goalkeeper gloves, goalie garments.
We are professional in ball making and currently not only manufacturing for many International brands but also develop new products range for newly introduce brands in international market, all our customers are quite satisfied with our quality & sincere services. Have a look at new our products range , and let us know your fresh requirements OR send us your own project so that we may quote our best prices and send samples for your quality evaluation. You will be sure of having our professional & efficient service as always.
---
| Soccer Home Page |
| Custom logo printing |
| Match Soccer balls || Training Soccer Balls || Pro Training Balls || Promotional Balls || Indoor Balls || Volleyballs || Rugby Balls || Hand Balls || Basketballs || Mini Balls || American Foot ball || Punching balls || Soccer kit || Track Suits || Specifications || Close outs ||Group Sales || Contact Information || Soccer Accessories || Goal Keeper Gloves || Shin Pads || Soccer Set || Soccer Pumps |

E-mail: sales@soccerball.com.pk